But that isn't all we are able to do. When you complete your Flower Bulb fundraiser and pay for your Flower Bulbs, ABC Fundraising® will give you 1 FREE Spinner® Fundraising Booklet for every $500 in profit your group earns. Use your FREE Spinners® to raise an average of $210 each. This will boost your profit all the way up to a potential of 70% profit!

SEE PROFIT CHART ABOVE FOR MORE DETAILS ON OUR PROFIT BOOSTER PROGRAM
Our Flower Bulbs are the highest quality you can find and GUARANTEED TO GROW.
There is absolutely no risk when starting a flower bulb fundraiser because ABC Fundraising® will send you high gloss full color flower bulb brochures.
The brochures are FREE for your group. We only ask that you send back your brochures if for some reason you decide not to run the fundraiser.  This helps us to keep our flower bulb brochures free for all groups.
FUNDRAISING WITH FLOWERS
To get started fundraising with Flowers simply call ABC Fundraising® at 1-888-212-1344 to order your FREE Flower Bulb Order-Taking forms.
You can also start a Flower Bulb Fundraiser with our FLOWER BULB FUNDRAISER ORDER FORM
A Sample Of Flower Bulbs From Our Online Spring Flower Bulb Fundraising Store
Butterfly Garden Flower Mat
Attract multitudes of butterflies with this colorful blend of annuals for quick, long lasting color. Seeded flower mat measures 17" x 5'.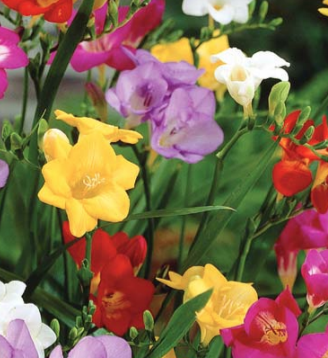 Colorfest Collection | 80 Bulbs
This 80 bulb collection will light up any sunny spot in the garden with month of bright flowers. 35 mixed Oxials, 15 Anemone blanda, 10 mixed Freesia, and 20 mixed Ixia range in height from 3-24″ tall. Full Sun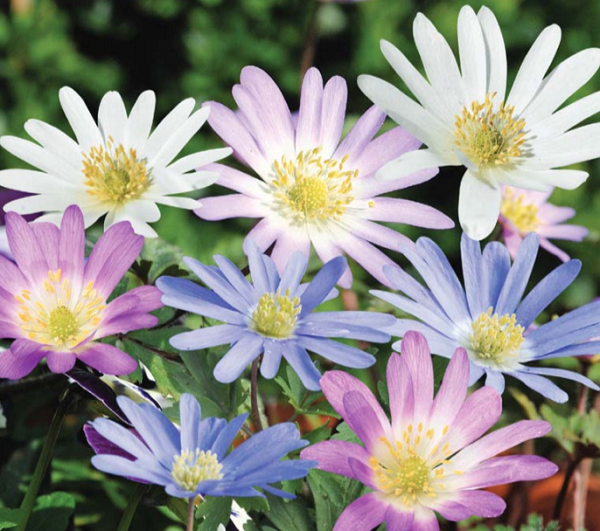 Mixed Anemone Blanda | 15 Bulbs
Cute. colorful, carefree daisy-like blooms in a mix of hot pink, pure white, and light blue. 6″ tall. Full Sun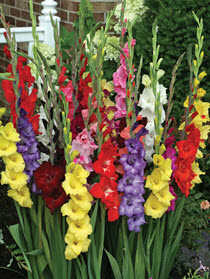 Mixed Gladiolus | 15 Bulbs
The queen of summer blooms! A complete spectrum of vibrant color and delightfully ruffled flower form on sturdy stalks 3'-4' tall. Full Sun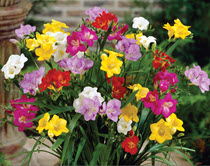 Mixed Freesia | 15 Bulbs 
Cut-flower favorites, studded throughout spring with brightly colored tubular flowers that hummingbirds love. Grows about 2 feet. Full Sun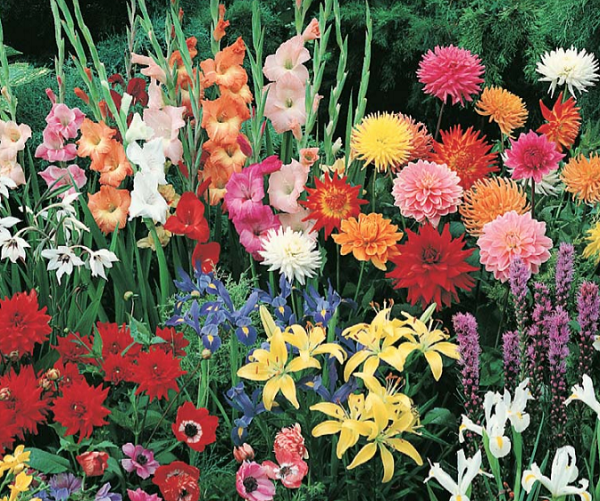 Garden Spectacular | 57 Bulbs
A thrifty combination of premium bulbs to supply dramatic color spring through fall. Glads, Freesia, and Liatris Spicata and Orchid Glads. 57 bulbs in all – at a price that's easy on the pocketbook as it is on the eyes! Height ranges from 16-48″. Partial Shade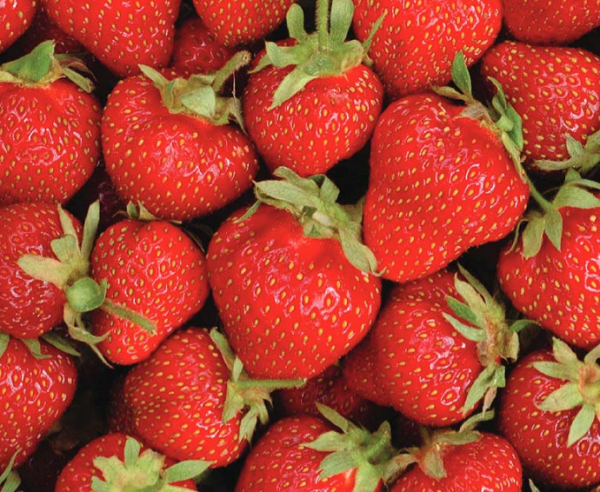 Everbearing Strawberries | 10 Plants
A season-long supply of sweet, juicy strawberries… from your own garden! These everbearing plants produce fresh fruit from June until October – and multiply each year for an even bigger harvest. Makes a lush groundcover or border planting – decorative as well as delicious! Full Sun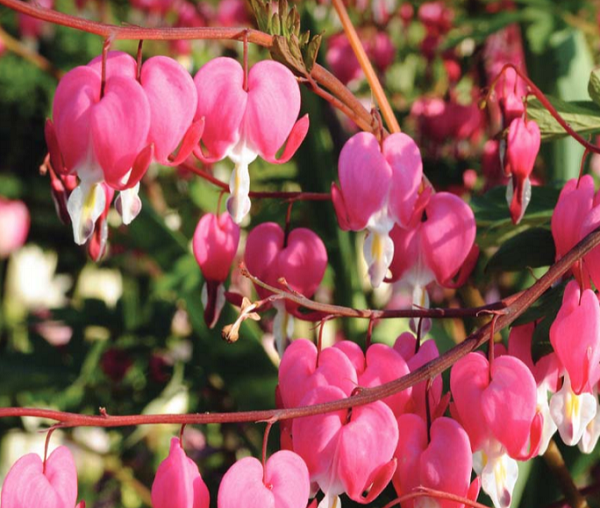 Bleeding Hearts | 1 root division
Old-fashioned garden beauty…in a newer, hardier form. Pendants of brilliant rose-colored, heart-shaped blooms dangle delicately from arching stems up to 24-36″ tall. Vigorous and winter ready. Partial Shade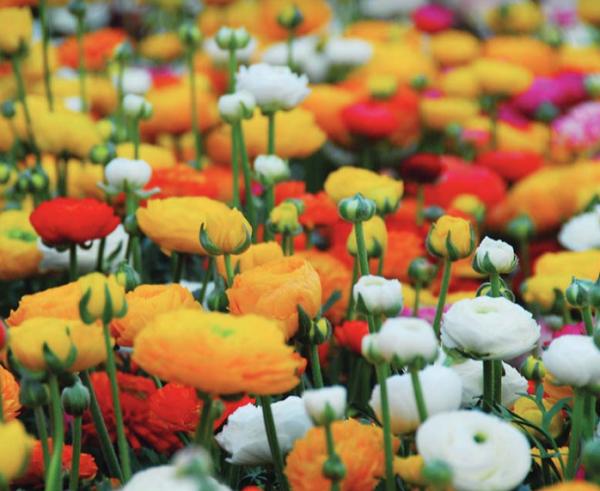 Mixed Ranunculus | 10 Bulbs
These Ranunculus bulbs have been perfected through 60 years of breeding to produce the finest traits. Grows 18-24″ tall. Each bulb produces from 30-35 blossoms over a 4 to 6 week flowering period. Full Sun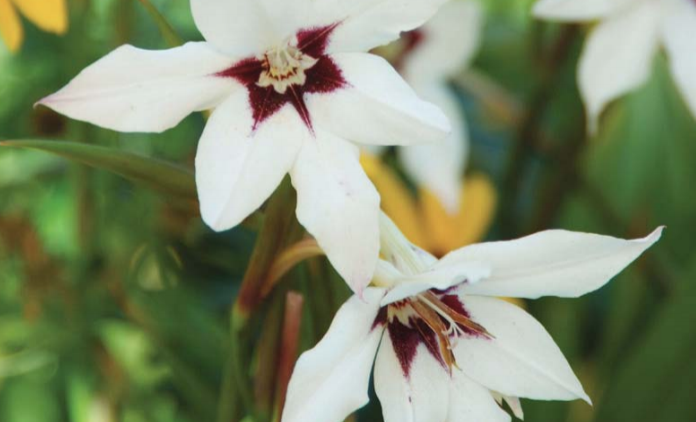 Orchid Glads | 8 Bulbs
Wonderfully scented flowers bloom in late summer – an ideal complement to other summer perennials. Grows 20-24″ tall. Partial Shade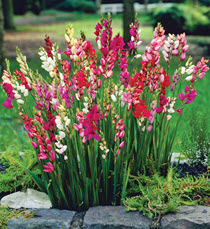 Mixed Ixia | 20 Bulbs
Unbeatable for bright color! These hybrids bloom from March through June, opening sprays of elegant flowers on straw-like stems in gleaming shades of white, yellow, orange, pink, and red. Full Sun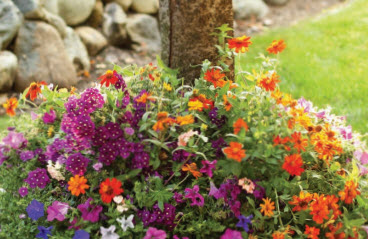 Sunny Tree Ring | Flower Mat
Protect and beautify your trees at the same time with this easy-to-use seeded tree ring.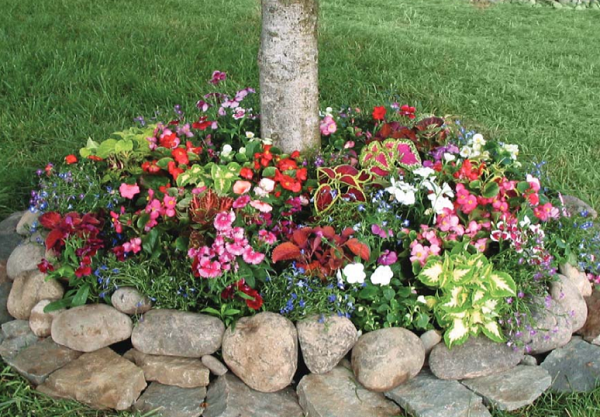 Shady Annual Tree Ring | Flower Mat
Protect and beautify your trees at the same time with this easy-to-use seeded tree ring. Clear the ground around your tree and set the mat in place. Within weeks you'll have a bounty of shade loving flowers! Partial Sun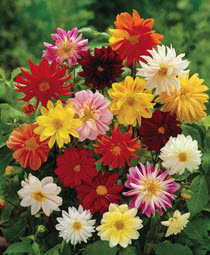 Dahlia | Flower Mat
The lovely semi-dwarf dahlias make wonderful borders as well as cut flowers and are stunning in containers. Mat measures 17" x 5'. Full Sun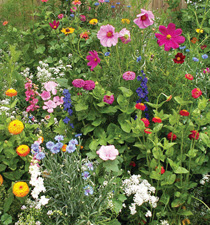 English Cottage Garden | Flower Mat
A mix of old fashioned annuals and perennials, specially selected to thrive with very little care. Full Sun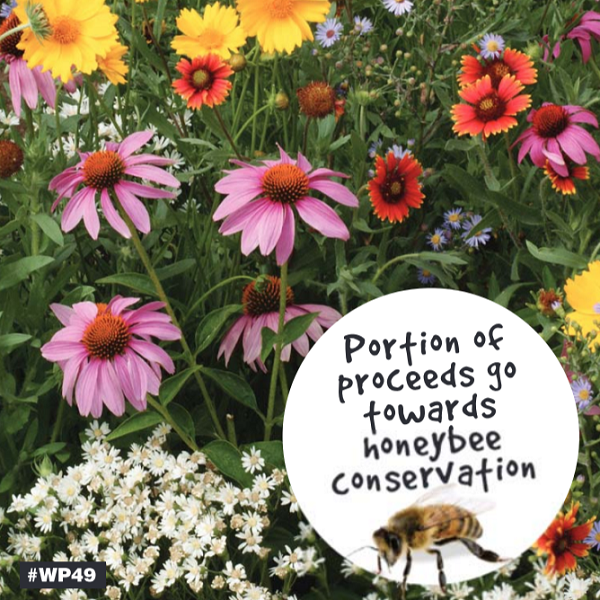 Honeybee Garden | Flower Mat
Give new life to your garden…and Honeybees, too. It's packed with flower varieties specially selected for their ability to attract bees. Full Sun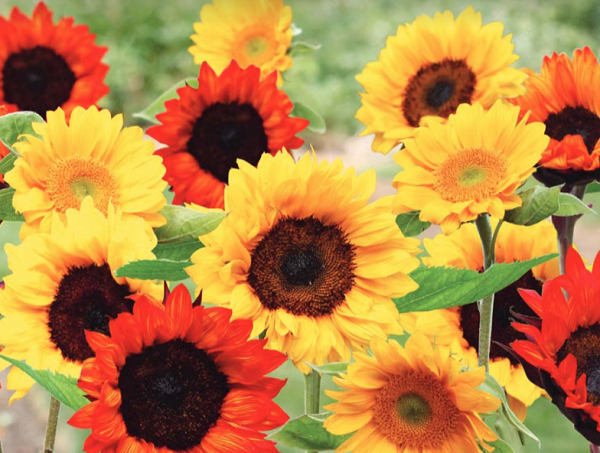 Sunflower | Flower Mat
Sunflowers are the symbol of summer, sunshine, and health. This special mix called "Autumn Beauty" produces a gorgeous array of sunny color in all the fabulous colors of fall – deep red, rich copper, gold, yellow, rust , and intriguing two-tones.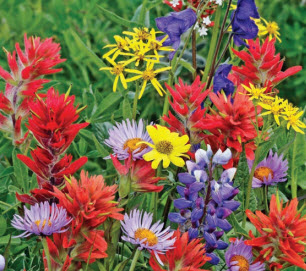 Hummingbird & Butterfly Garden Jumbo Seed Packet
A blend of top-grade seeds designed to attract flocks of hummingbirds and butterflies to your garden. Jumbo packet will fill an area up to 40-50 square feet. Full Sun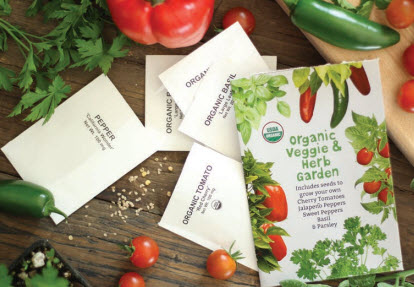 Organic Herb & Veggie Garden – 5 Pkts
Grow your own organic herb and veggie garden from seed and enjoy the healthy and tasty results! Includes Jalapeno Peppers, Cherry Tomatoes, Sweet Pepper, Basil and Parsley.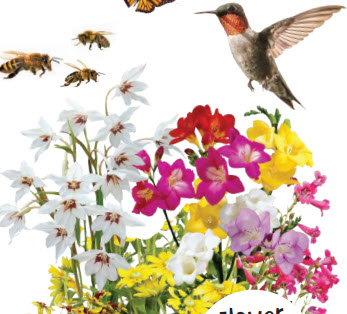 Birds, Bees & Butterfly Collection – 31 Bulbs, 1 Flower Mat, 1 Seed Packet
You'll see a variety of critters drawn to your garden after planting this collection. Includes Hummingbird seed packet, Butterfly Garden seed mat and 31 butterfly & honeybee attracting bulbs. Full Sun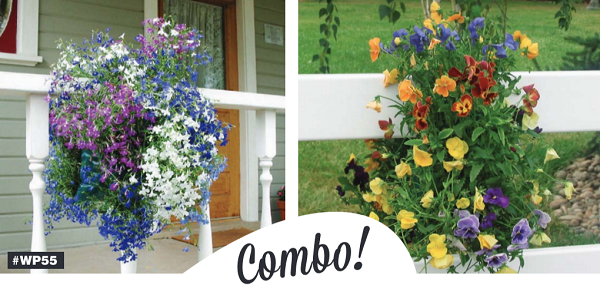 Two Sun-Loving Saddlebags (Mixed Pansy & Mixed Lobelia) | 2 Seed Kits
Bring twice the color to your patio this summer! Each bountiful kit will create a waterfall of blossoms on both sides of any railing. Full Sun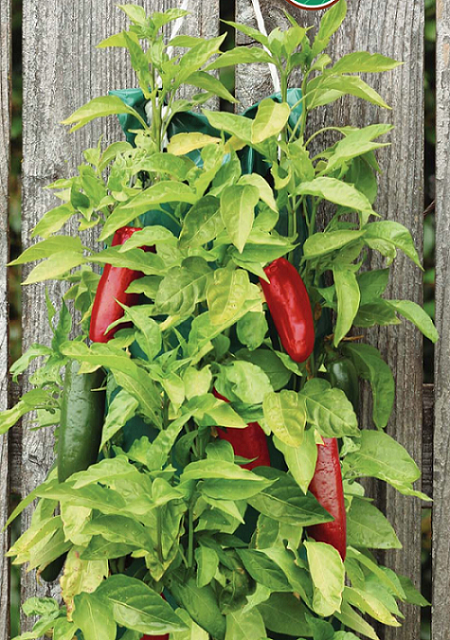 Organic Jalapeño Pepper Hanging | Seed Kit
Pick your ripe Jalapeños for use on nachos, in salsa, or smoke the mature red ones over mesquite chips to make your own chipotle sauce. Organic and GMO Free.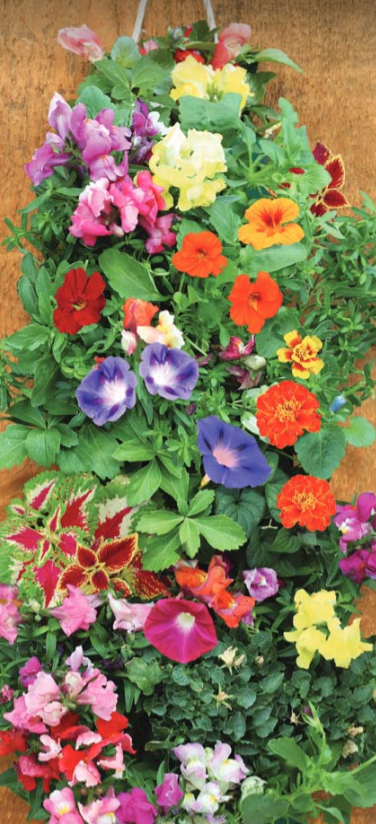 Hummingbird Hanging Seed Kit
Enjoy a profusion of color and blooms with the added bonus of being able to watch the fauna enjoy the nectar of the sweet flowers. Includes a hanging bag with rope, special hummingbird attracting seed mix & complete planting and care instructions. Full Sun.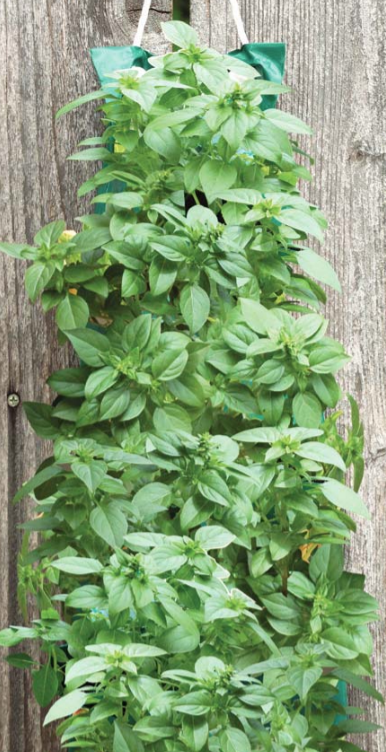 Organic Large Leaf Basil Hanging | Seed Kit
Italian foods of all sorts get a boost from this zesty herb – it's perfect in pasta salads and sauces. Snip some fresh for fish, poultry, and vegetables. Basil is most known for being the key ingredient in pesto. Make fresh for bruschetta or clip off some leaves for fresh mozzarella, and tomato snacks. Easy to grow for harvest all year long. Organic and GMO Free.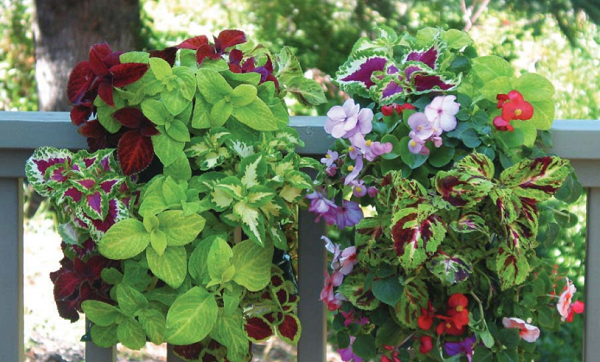 Two Shade-loving Saddlebag (Mixed Coleus & Shady Annual) | 2 Seed Kits
This set contains two saddlebags: Mixed Coleus and Mixed Annual seeds for a beautiful combination of shade loving plants. Partial Shade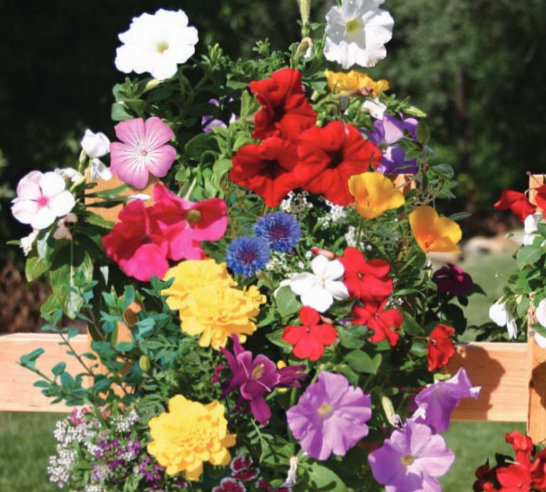 Butterfly Saddlebag Seed Kit
Attract multitudes of butterflies with this colorful blend of annuals for quick, long lasting color. Full Sun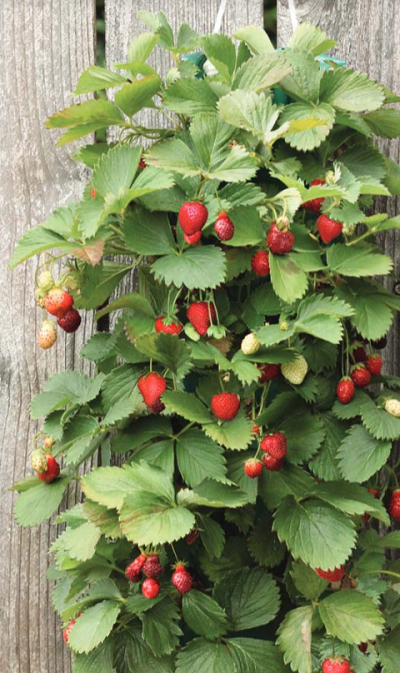 Strawberry Hanging | 1 Kit (10 Plants)
Enjoy as a garden accent, and as a source of sweet, sun-ripened berries. Full Sun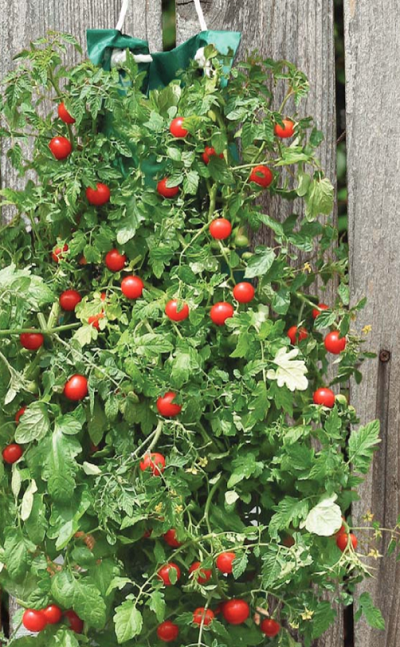 Cherry Tomato Hanging Seed Kit
Our Babylon Bag turns any sunny wall or fence into a place to grow tomatoes! The lush, hanging foliage is decorative through summer, and then you harvest ripe cherry tomatoes for salads or snacking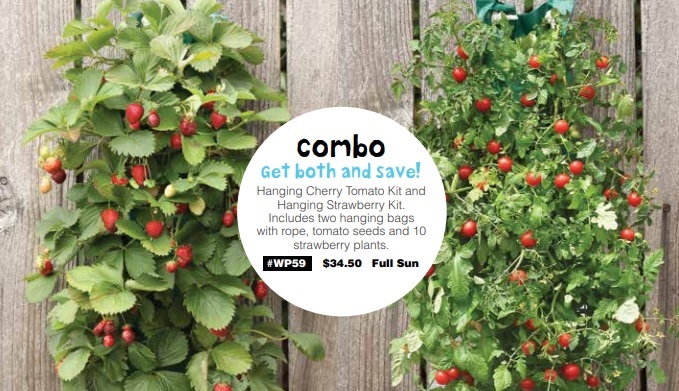 Cherry Tomato and Strawberry Combo Kit
Get both and save! Hanging Cherry Tomato Kit and Hanging Strawberry Kit. Includes two hanging bags with rope, tomato seeds and 10 strawberry plants
___________________________________________________________________________________________________________________
About ABC Fundraising®
ABC Fundraising® provides dozens of Unique Fundraising Ideas with Ultra High Profit! Whether you're looking for School Fundraisers, Church Fundraisers, Youth Sports Fundraisers or Non-Profit Fundraising Ideas, ABC Fundraising® can help your group raise money fast! We're constantly developing new and unique fundraising products that can help our clients earn the Highest Profit Possible in the fundraising industry.
Did You Know That You Can Earn Up To 97% Profit With ABC Fundraising®?

ABC Fundraising® offers Fundraisers for all types of Youth Sports Teams including Soccer Teams, Cheerleaders, Baseball and Basketball Teams, High Schools Sports Teams, Football Leagues, Dance Team Fundraisers & More!
Since 1993 our Youth Sports Club Fundraising Ideas, and Non-Profit Fundraisers have helped groups of all shapes and sizes raise over 10 million dollars. Our High Profit School Fundraising Ideas have helped over 30,000 schools raise over 30 million dollars and our Church Fundraising Ideas, have helped over 10,000 Churches all across the US Raise Over 10 Million Dollars!
Try one of our High Profit Fundraising Ideas today and see why thousands of groups all across the United States choose ABC Fundraising® for all of their fundraising events!

____________________________________________________________________________________________________________________
About the ABC Fundraising® FREE INFO-KIT:

The ABC Fundraising® FREE INFO-KIT provides information on the top fundraising programs available in the United States today. With over 60 years of combined fundraising experience, our team members hand-pick only the most profitable fundraising ideas which are time-tested and we've placed them in our 16 page full color catalog for you to browse through to determine which fundraiser is best for your group.
ABC Fundraising® Has Fundraising Ideas With Up To 97% Profit & No Money Up Front!
YOUR FREE FUNDRAISING INFO-KIT will include answers to Frequently Asked Questions, about our easy fund raisers which include The Scratch & Help® Scratch Card Fundraiser, our brand new Cookie Dough Fundraiser with up to 80% Profit as well as Spinners®, the World's First Re-Usable Fundraiser with up to 97% Profit & No Money Up Front. You will also receive a sample of the ABC Fundraising Card®, which is the most profitable Discount Card Fundraiser in the country with up to 93% Profit!
The FREE INFO-KIT is sent via the US Postal Service and comes in a standard 6×9 envelope and arrives within 1 week.

____________________________________________________________________________________________________________________
Our fund raising programs have been specifically designed to bring in a huge profit for your School, Youth Sports Team, Church or Non-Profit Organization! No matter what type of group you have, if you need to raise money, ABC Fundraising® is bound to have a fundraising idea that is perfect for your organization.
We work with schools that have thousands of students participating in our fundraisers and we also work with small groups fundraising with as little as 1-10 participants.