But that isn't all we are able to do. When you complete your cookie dough fundraiser and pay for your cookie dough tubs, ABC Fundraising® will give you 1 FREE Spinner® fundraising booklet for every $500 in cookie dough profit your group earns.
Use your FREE Spinners® to raise an average of $210 each. This will boost your profit from the average to the extraordinary! For instance if you sell 500 tubs of cookie dough you will qualify for 5 FREE Spinners® Fundraising cards. Use your Spinners® to raise over $1000 extra! See our cookie dough profit chart above for more information.
Tips for a successful cookie dough fundraiser
Planning your NEIGHBORS Cookie dough fundraiser carefully is very important to a profitable and stress free fundraising event. One of the first things to remember is that you will need a place to store your cookie dough when it arrives. Why not utilize this space to make your cookie dough fundraiser have extra streams of income. Read more to find out how!
One great option is to find a large kitchen, either a church, at a school, or a local business that donates the use of their kitchen and have a cookie-making event!
This way when your cookie dough arrives everyone will be excited to bake cookies. All of the members will have fun baking together and have pride of ownership in the scrumptious cookies they produce.
Another great idea to make even more money from your cookie dough fundraiser is to have a bake sale or set up several bake sales at local events such as basketball games, a church bazaar, parties or even a corporate event in your community.
BAKING COOKIES AT HOME FOR YOUR FUNDRAISER
Another option is to have each member of your group or team bake cookies at home and then the group can sell the different treats in a bake sale. Try setting up at a store or other well trafficked area to sell your cookies. Consider selling the cookies on creative trays or baskets to local businesses or corporations who want to extend the good cheer of the holiday season. Cookie fundraisers can be a great way to have fun, make money and to be creative.
With these extra tips you are sure to have a successful and profitable Neighbor's cookie dough fundraiser.
ABC Fundraising® is a terrific resource for Cookie Dough fundraisers! We have helped over 25,000 schools, churches, youth groups, sports teams, fraternities, and countless other types of organizations raise over 30 million dollars with our Cookie Dough Fundraising program and our other highly profitable fundraising products.
To get started fundraising with cookie dough simply call ABC Fundraising® at 1-888-212-1344 to request your FREE Cookie Dough Order-Taking forms and Web Store!
COOKIE DOUGH TUB FLAVORS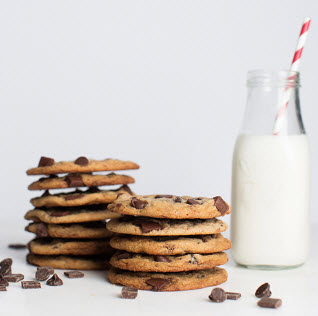 Looking for the best chocolate chip cookie dough? This famed All-American cookie is a pleasurable treat no matter what your age or occasion! Loaded with luscious chocolate chunks, every morsel is the perfect combination of cookie and chocolate. Each tub makes 40 cookies!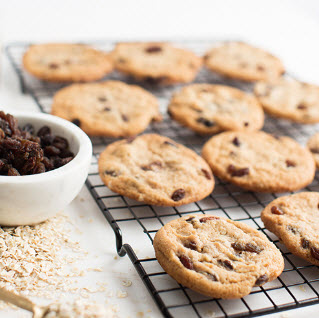 The warm earthy smell of cinnamon fills your home as you bake these old fashioned favorites. Hearty oats and juicy raisins combine for that homemade taste that will satisfy even the most discriminating palate. Deliciously moist and sweet, you'll need extra for every baking occasion! Each tub makes 40 cookies!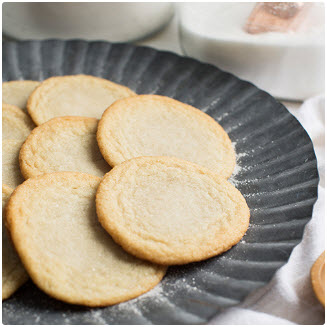 Do you enjoy the simple things in life? Then we've got the perfect cookie for you! Our sugar cookies are sweet, simple and comforting; just like the cookies from your favorite cookie jar. Keep several tubs for days when a sweet snack of simplicity could comfort your soul. Each tub makes 40 cookies!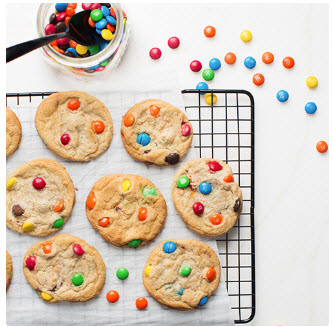 What a match made in heaven! Your favorite candy and your favorite cookie, brought together in a perfect union. Just scoop and bake. Each tub makes 40 cookies!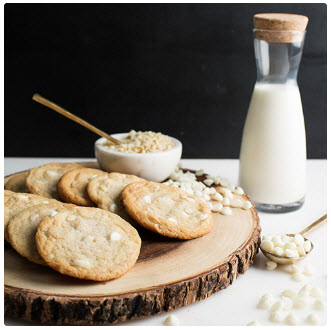 White Chocolate Macadamia
Indulgent, exotic and divinely scrumptious best describe our best loved cookie. Premium white chocolate chips and Hawaii's pearls of paradise are blended with our fabulous dough to create the perfect tropical escape. Who needs a vacation when you can indulge in these luscious treats every day? Each tub makes 40 cookies!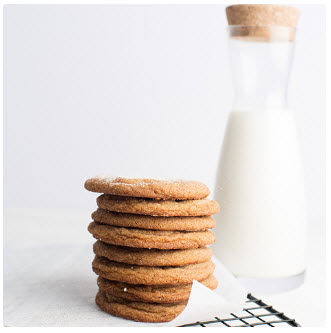 Cinnamon and sugar is the pleasant combination that creates the smell of memories. Our buttery dough mixed with cinnamon and sugar will take you back to Grandma's kitchen. They are the ideal treat for celebrating holidays and family, any day of the week. Each tub makes 40 cookies!
____________________________________________________________________________________________________________________
About ABC Fundraising®
ABC Fundraising® provides dozens of Unique Fundraising Ideas with Ultra High Profit! Whether you're looking for School Fundraisers, Church Fundraisers, Youth Sports Fundraisers or Non-Profit Fundraising Ideas, ABC Fundraising® can help your group raise money fast! We're constantly developing new and unique fundraising products that can help our clients earn the Highest Profit Possible in the fundraising industry.
Earn Up To 80% Profit With The ABC Fundraising® Cookie Dough Fundraiser?

ABC Fundraising® offers Fundraisers for all types of Youth Sports Teams including Soccer Teams, Cheerleaders, Baseball and Basketball Teams, High Schools Sports Teams, Football Leagues, Dance Team Fundraisers & More!
Since 1993 our Youth Sports Club Fundraising Ideas, and Non-Profit Fundraisers have helped groups of all shapes and sizes raise over 10 million dollars. Our High Profit School Fundraising Ideas have helped over 30,000 schools raise over 30 million dollars and our Church Fundraising Ideas, have helped over 10,000 Churches all across the US Raise Over 10 Million Dollars!
Try one of our High Profit Fundraising Ideas today and see why thousands of groups all across the United States choose ABC Fundraising® for all of their fundraising events!

____________________________________________________________________________________________________________________
About the ABC Fundraising® FREE INFO-KIT:

The ABC Fundraising® FREE INFO-KIT provides information on the top fundraising programs available in the United States today. With over 60 years of combined fundraising experience, our team members hand-pick only the most profitable fundraising ideas which are time-tested and we've placed them in our 16 page full color catalog for you to browse through to determine which fundraiser is best for your group.
ABC Fundraising® Has Fundraising Ideas With Up To 97% Profit & No Money Up Front!
YOUR FREE FUNDRAISING INFO-KIT will include answers to Frequently Asked Questions, about our easy fund raisers which include The Scratch & Help® Scratch Card Fundraiser, our brand new Cookie Dough Fundraiser with up to 80% Profit as well as Spinners®, the World's First Re-Usable Fundraiser with up to 97% Profit & No Money Up Front. You will also receive a sample of the ABC Fundraising Card®, which is the most profitable Discount Card Fundraiser in the country with up to 93% Profit!
The FREE INFO-KIT is sent via the US Postal Service and comes in a standard 6×9 envelope and arrives within 1 week.

____________________________________________________________________________________________________________________
Our fund raising programs have been specifically designed to bring in a huge profit for your School, Youth Sports Team, Church or Non-Profit Organization! No matter what type of group you have, if you need to raise money, ABC Fundraising® is bound to have a fundraising idea that is perfect for your organization.
We work with schools that have thousands of students participating in our fundraisers and we also work with small groups fundraising with as little as 1-10 participants.